StumbleUpon & Its Friend Features
Recently I have become for a better word – addicted to StumbleUpon. I cant count the number of laughs and really informative sites about Web Analytics, CSS, and so on that I have found since I started using it more often.
One problem I have come across while using it more was a lack of diversity in the people I followed and was friends with – I keep seeing the same type of photos and articles. Reading what is basically the same article on 4 different sites a day just doesnt do it for me.
This problem lead me to dig deeper and use the relatively new followers/friends feature. I have to admit – I love it. It has helped me expand the number of people I follow and keeps the great sites coming.
That being said, I have noticed two things about the friends and their friend recommendation engine that could use some tweaking.
Meet New Friends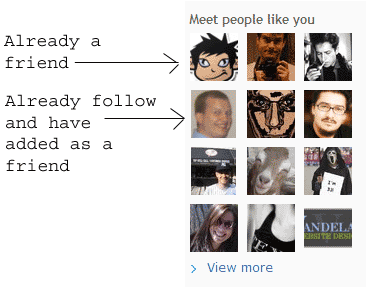 If you look at the pretty image (I suck at Photoshop, sorry), you can see two issues already. I am pretty sure that every time I load this page and see this feature I see at least one avatar that I know is on my friends list. I mean, I dont have THAT many friends so why is it so hard to show me new people? My other complaint with this feature is that it will show me someone that has a whopping total of 35 stumbles. How do I know based on 35 stumbles if they will brighten up my day or help me learn stuff that I never imagined? If I have 3000 stumbles, how about you show me people with at least 10% that number? That seems fair to me. What do you think?
Ignore Friend Request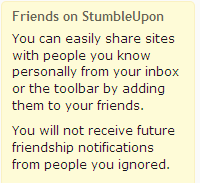 The next feature that I think should be tweaked is the "Ignore a Friend Request". Its a bit harsh to have to say yes or no to a request knowing that "You will not receive future friendship notifications from people you ignored. ". I may not know the person or like their stumbles at that moment but people can change cant they? Again, if someone with 15 or 50 or even 10000 stumbles friends me, I have to say yes or no. Why does no mean no forever. How about a 30 day time frame or so?
Imagine you are a new user and have a few stumbles and are trying to figure the whole StumbleUpon thing out. You stumble here and there and you see this nifty "Meet people like you" area and start clicking. You follow a few and you friend a few of them. If you are like me, you will say yes, no and just wait on others (or maybe you always say no/yes). The user thinks nothing of it and a few months down the line goes looking for interesting people and finds you again, then what? Actually, I dont know what happens. I havent been able to test this due to not knowing who has turned me down, so if someone knows exactly what you see, please let me know. 🙂
So that's all I got. I finally blog and its to whine/complain – figures eh? To those working on SU – thanks for your work and I look forward to spending many more hours using your addictive site.