Brightcove Network Service is Closing
So I dont think it was 30 minutes that I hit publish and I received an email from another video service shutting down. On December 17, 2008 Brightcove will be shutting down its free Brightcove Network Service.
Brightcove is not shutting down completely, they seem to just be shutting down the free service and forcing those that wish to continue to upgrade to Brightcove 3.
Brightcove 3 is a major new version of the Brightcove online video platform that was launched on October 14, 2008. The new release has a completely re-designed user interface and a wide variety of powerful new features. You can learn more Brightcove 3 in our product section.
From the Compete numbers it actually looks like Brightcove is the small fish only when compared to YouTube.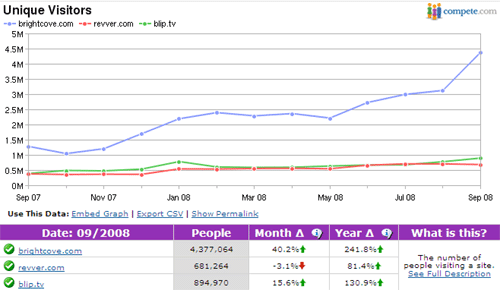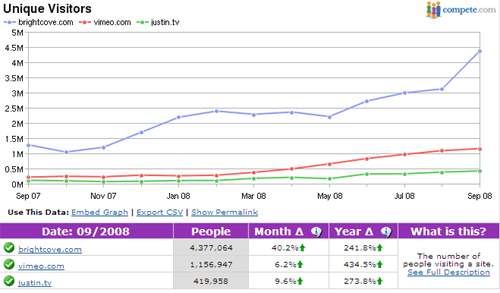 How to Upgrade your Brightcove Account
Brightcove has created the following list for those wishing to upgrade.
You can start using your Brightcove 3 trial today by signing-in with your existing username and password. All of your content will be accessible through both your current Network account as well as Brightcove 3.
If you'd like to continue to use Brightcove after December 17, you'll need to purchase Brightcove 3. The best way to do that is to submit a request for our sales team to contact you.
As one of our Network publishers, you qualify for this one-time, exclusive offer: Purchase Brightcove 3 by 6:00 p.m. ET on December, 16, 2008, and get up to three additional months for free.*
If you'd like to download the content from your Brightcove Network account, we plan to provide a video download tool by December 1, 2008. We will notify you when this is ready.
If you have any additional questions, they are most likely answered in the FAQ we've prepared. .
So if you have an account you should look to move, save, and/or upgrade.