Watch MLB Playoffs Live Online
Recently I was able to watch a Sunday Night Football game live and online and it was great. Everything about it was great. The video quality was good, the sound, the option to switch back and forth from different camera angles – all I can say is that it was well done.
Tonight I had some work to do and thought I would see if I could watch the Cubs online. What do you know, but I can. Great I thought to myself, this is awesome.
Not so much.
UPDATE:
I figured out where to get audio for the MLB Playoffs. It is from ESPN so it doesnt match the video exactly that MLB and TBS show, but it gives you some sound. If you go to ESPN Radio and hear the ESPN team covering the game – I cant tell you which one to pick but tonight the Dallas, Tx channel has the game. Like the entire setup by MLB and TBS it's not perfect but it works.
END UPDATE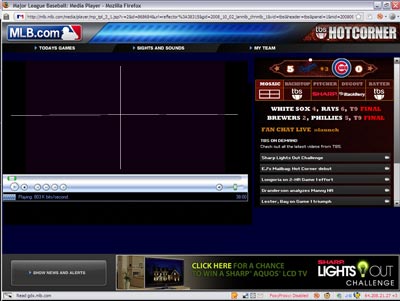 I added in the white lines (where the video was playing) to show you how they have it set up. It simply uses Windows Media player to stream the video.  The page loads with 4 screens which I figured out later can be set to the full video area by clicking the Mosaic, Backstop, Pitcher, Dugout or Batter icons. How was I suppose to know those were buttons?
Once I figured that out – it was nice to have a bigger picture.  The quality wasnt bad but it wasnt great. The sound – what sound? They piped in the sound that the camera picked up. There werent any anouncers or anything, just the sound of the crowd. This isnt exactly watching baseball online if you ask me. Luckily for me I live in Chicago and get WGN – so I listened to them. The problem with this is that the video was lagging some minute or so behind the radio broadcast. Another strike against MLB Gamecast or MLB Live and Online.
The final straw came when the video just stopped.  So there I am, watching a blank screen. I kept trying to refresh the page but couldnt find a nonflash area on the page. Finally I got it, but had to wait for it to buffer, load, buffer, and finally play. Talk about another stike against them.
So lets recap:
Sound Quality: Strike
Usability: Strike
Video Quality – Foul Ball
Streaming: Strike 3!!!
And that is when I turned it off.