Twitter WordPress Plugin
For a long time I have heard good things about twitterfeed but much like graywolf I hate to use 3rd party applications that ask for my username and password. So what else could I do but go on a hunt for a Twitter WordPress plugin?
I did a seach on WordPress for "twitter" and found some possible options but only 2 really stood out as probables:
Twitpress
Twitpress is a simple and straight forward plugin. It gives you few options but does the job. You can customize the tweet but that is about it.
One problem I have with Twitpress is that the permalink option does not work. Im sure that I could go in and figure it out, but thats not the point :). The permalink is suppose to look like "domain.com/index.php?/twitpress" and not like this: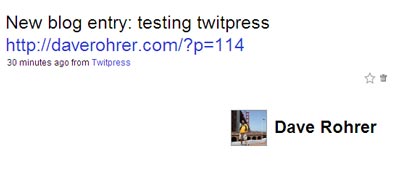 Overall, Twitpress will get the job done but its not my favorite Twitter WordPress plugin.
Twitter updater w/ TinyURL
Twitter updater has some nice bells and whistles that Twitpress does not have. You can define when you post to Twitter and get a few more options. The link is also clean and short due to the use of TinyURL, but I am greedy and would like to see some alternatives to TinyURL available.
The options though do favor Twitter updater. You can update Twitter when you create a new post (status is saved but not published), edit a post (re-save but not publish), publish a new post or edit a post. Like I said, quite a few options.
The TinyURL integration is handy due to the fact that some blog links can get very long. Take a look at what it looked like for me:

As you can see, it is clean and simple. The ability to change the wording for each action is also quite handy. I think going forward I am going to stick with Twitter updater as my WordPress 2 Twitter application.