TweetDeck Review
Another day, another Twitter Application. TweetDeck is built much like Twirl in that it is build on the Adobe Air platform, but little else appears to be the same.
TweetDeck has all of the same options you can get in the web version of Twitter, or in applications such as Twirl, Twitterfox, or a Twitterlicious. You can Re-tweet, Direct Message, and Reply to anyone of your friends. It is missing the "Save to Faves" functionality at this time but I imagine that it will be added at some point.
TweetDeck does some have some great features that you may be interested however:
TweetDeck Search
There are currently two methods to search within the application. You can search local (which only includes your friends) or with the use of Summize you can search all tweets.

TweetDeck Group
A feature that you find in Pownce is now in Twitter thanks to TweetDeck. This might just be the best feature that one could add to Twitter. As of right now its not fully working as it doesnt import all of your friends but you all could go and suggest that they change it here. I have created 3 groups already and can see a great use for them. Have some heavy talkers that you follow? Drop them into their own group and tune out most of the babble that they spew. Have a close group where every tweet is important? Drop them into their own group. I can see me possibly creating groups based on job, industry, topic (UFC and MMA, Music, and so on). So figure out what works best for you and run with it.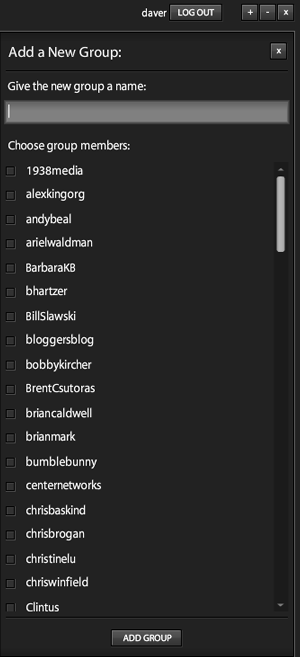 TweetDeck Tweets
I thought Id drop a close up of where you tweet as it is a bit hidden. At the top of the page you have to click Tweet for what you see below to drop down. I kind of wish it was at the bottom of the app but that is just me.

TweetDeck Overall
Im really digging this application. The search and group functions really set it apart from other apps for me. I put my 10 votes in on the TweetDeck feedback and look forward to more great work being done.
UPDATE 7-17-2008
There has been some work done on TweetDeck and currently is on version v0.151b including some of my faves:
Direct Messages now have their own column
Added button to switch between single and multi-column view
Added new Tweet panel for single column view
There is an even newer version out with more changes. When @ home TweetDeck is by far my favorite Twitter App (right now).