Evri Review

I constantly sign-up for Betas and Alphas and usually Im let down. I know that its a Beta/Alpha but I just dont see a use for many of the products I look at. Times when I do see promise, they are so far from being scalable and full featured that I simply move on to the next "great" thing. Im not sure where Evri.com fits with my past Beta looks but I have liked what Ive seen so far.
People, Places, and Things
On the "main page" you get the option to view by People, Places and Things but that is it. Where is the search? I like how you show me what is popular but I want what I want. Perhaps a directory or something would be an option if they are trying to silo people to only look at "main topics".
From here you can click and see how and what is connected – which is kind of cool if you ask me. Dig deeper by clicking the "see full profile" link and you get a whole lot more. Evri seems to take videos from YouTube (who doesnt), some data from Wikipedia, and appears to have space for images and other media types for future viewing. Click on a video and it will play right on the page, click on a news item and a new page will open with the article.
Many of the articles it references are newspapers, AP, and other news outlets. It doesnt have the range that Google and Yahoo have but it appears to be enough for it to make some connections to other topics. The more I play with it, the more it seems to be an automated version of Mahalo.
Overall the UI is simple, quick and gets it done. I like the selector type options that let you control how things are connected and why. Every time you tweek and change the selectors, the articles below change to support the connection. This has to be my favorite feature that Evri has to offer.
So now that I have covered the bad, the good, and some ugly, here are two examples:
Jay-Z on Evri.com
This was kind of a funny example. You can see he owns some sports teams, is connected with 50 Cent, his wife/gf, and some others in the industry.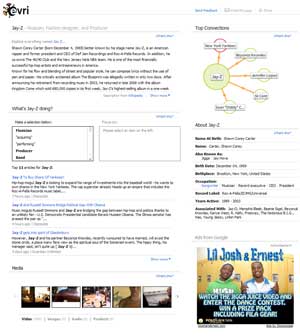 The media section has a good selection of his music videos. I will be curious to see how they integrate the Images, Audio, and the Products into the mix.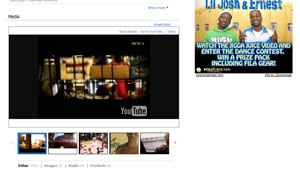 GM – General Motors on Evri.com
There are some "bugs" with the system that they will need to work out. I imagine that there are other examples that will show their ugly heads such as Mustang, Apple, or Sinks.
So my question to you is "What could GM also stand for?" Who is that person that runs a sports organization? Yes, the GM or General Manager. With this in mind, it seems that Evri thinks General Motors and the Houston Astros are connected and even have news about the Houston Astros and their GM.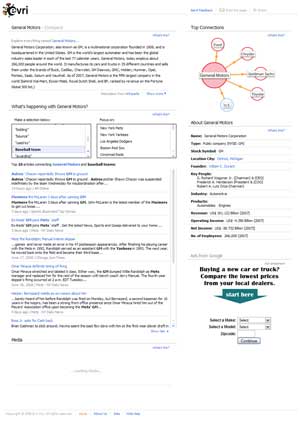 Evri Review – Its not all that bad
I do have to say, Evri is kind of cool. It took me a few minutes to figure out the selectors and nodes and how it all worked (I think watching SouthPark at the same time didnt help). I would love to see a search function or some way to get to the topic I am interested in. I would also like to see a wider variety of news sources… but this is a Beta.
This will be a Beta that Ill have to check back soon and see how its doing.