Twitterlicious Review
Twitterlicious is a windows application for Twitter (obviously). It uses the API as all Twitter applications do (well, the "good" ones) but is a desktop application. There are some other desktop applications but many of the ones I have looked at and used in the past were web based (TwitterFox).
Twitterlicious Features:
Small and concise UI
Hides itself in the system tray when not needed, and offers pop up notification
Displays the read and unread status of tweets
Allows you to control the refresh rate
And more – see the site for a complete list
Twitterlicious Screenshot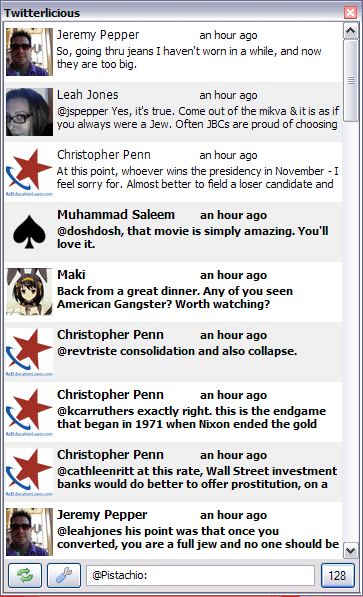 Twitterlicious Quick Commands:
Ctrl + W — minimise the Twitterlicious main window.
Ctrl + R — refresh.
Ctrl + K — mark all twits as read.
Ctrl + Return — send update (same as clicking "Go")
And many more
The Good Stuff

Overall the product isnt bad for the price (free but they ask for a donation), but it isnt for me. To really be able to use it well you have to know the quick commands and that involves a learning curve. Twitterlicious doesnt do much to separate direct messages from community messages and makes it more difficult to find them then it should be.
Some other problems that I had include:
I cant click links, I have to use the keyboard commands
I cant click to a user's profile, again I must use the keyboard commands
To open a link, you again must right click the area or use keyboard commands
No way to see my archive of tweets
Unlike TwitterFox or the web site I cant click on the names that people @ to.
The application displays a person's name(which throws me off personally)
Windows only, no Mac support. This really doesnt bother me, just thought I would point it out.
There were some good things about it but none that really stick out but here are a few just to be fair: It didnt crash, it was quick and easy to configure, it was a small download, and I was up and running quickly once it was setup.
If you are looking for a desktop application for Twitter I would have to say to go with Twirl (review to come soon) over Twitterlicious or to give TwitterFox a look as it integrates into Firefox very nicely.